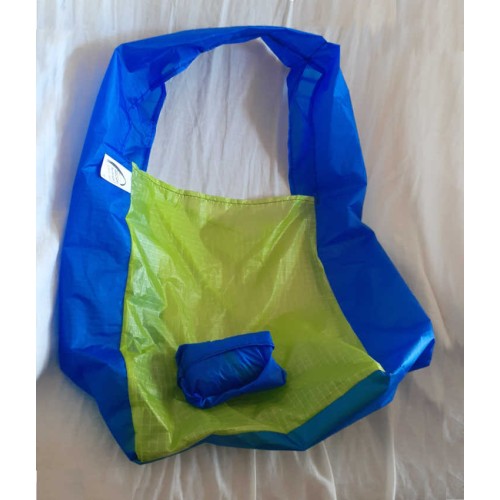 One shopping bag, blue - lime green
Product Code: One shopping bag, blue - lime green
Availability: In Stock
This bag is made in Australia from a high tech material called rip-stop nylon, the material para-gliders are made from. The material is extra imported from France. It is very strong and long lasting, but in the same moment very light, so the bag only weighs 22 g. The material also has a coating, which stops the UV-light from going through.
The design is very special: The bag is made from two pieces of material: The handle piece and the bag piece. The handle piece goes all around the bag, and the bag piece is connected on top of it, which creates a doubled bottom, so the bag lasts longer at the bottom, because it will not wear out that easily from putting the bag down with heavy content in it. The 59 cm long handle is 7.5 cm wide where it goes on your shoulder, so it will distribute the weight evenly, and it also has a pocket, in which you can push the whole bag.
The dimensions of the bag are:
lengths=28cm, width=19cm and height=33cm
which gives the bag a whopping 17.5 liter volume, and you can fill it up with really heavy stuff, and it won't break.
I always have two bags in my pocket when I go out and the chances are that I might want to do some shopping, and it is a very nice feeling when I pull out my bags at the counter after I have been asked if I would need a bag, and I can say: 'No, thank you, I've got a bag'.